My Help 4 Depression...

moving beyond the negative stigma of depression by working toward

emotional, physical and spiritual health.

To encourage the expression of inner feelings of depression, My Help 4 Depression has begun what we believe is the first online museum dedicated to depression by individuals recovering or recovered from depression. The Museum of Depressed Feelings is another way My Help 4 Depression seeks to educate the public about depression in order to erase the negative stigma associated with depression and promote healing.

My Help 4 Depression believes art therapy can be one important part of recovery from depression for persons choosing to express their depression in this way.

Museum of Depressed Feelings

"Night Over Darkness"

Elaine B.

age 23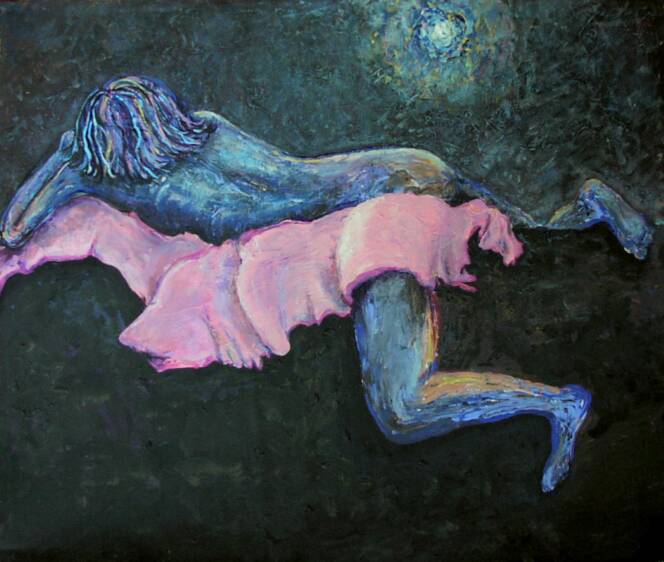 In Elaine's words: "Night Over Darkness" portrays the internal void of depression and attempt at self-comfort.

My Help 4 Depression appreciates this significant work. Darkness represents a time that can often be the most difficult when dealing with depressed emotions and a time when the feelings can be challenging to navigate in order to maintain a sense of what is true. The figure's abandonment in space as indicated by the leg which drops off the edge of a bed, visual plane, or perhaps a balcony emphasizes the lack of emotional stability which depression carries with it.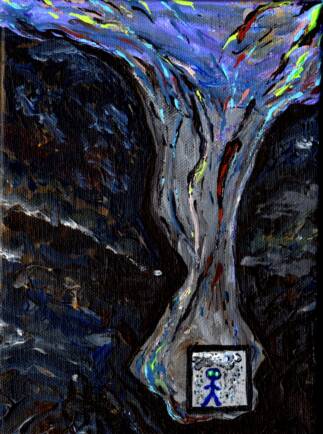 In Talon's words: "The Pit" represents the unavoidable pit/vortex of depression I fall into and until recently have not known how to climb out of. I'm beginning to recognize when I start to fall. It's taking a ton of strength to do something positive when the depression starts, but it's better than living on the edge of existence. Maybe I really do matter after all. I hope so."

My Help 4 Depression enjoyed receiving this expressive work showing the depths of depressed feelings as depicted by the boxed figure. The use of color to symbolize hopelessness as well as the peaceful blues above which become part of the seemingly unavoidable pit mark this work's confusion as to the cause(s) of depression. The figure is further tormented by perpetual rains in a box which can't be removed by virtue of its shape - further evidence of despair. The green eyes to the figure's soul symbolize health; recovery from depression is real! Yes, Talon you count, you matter, and you are important in this world!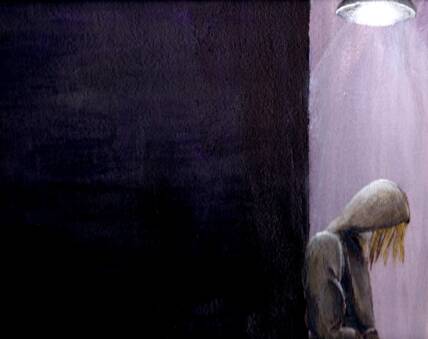 In Tracy's words: "'Lost' shows the loneliness and emptiness I feel."

My Help 4 Depression sees this work as exemplary of the weight of depression - shown here by the massive dark wall against the individual's back. The figure's bent head gazes downward at reflection and hopelessness. Thankfully there's a light from above symbolizing hope. Even though the figure is unaware of the light reflecting on her/him, hope surrounds this individual.